An Overview about Different Types of Label Printers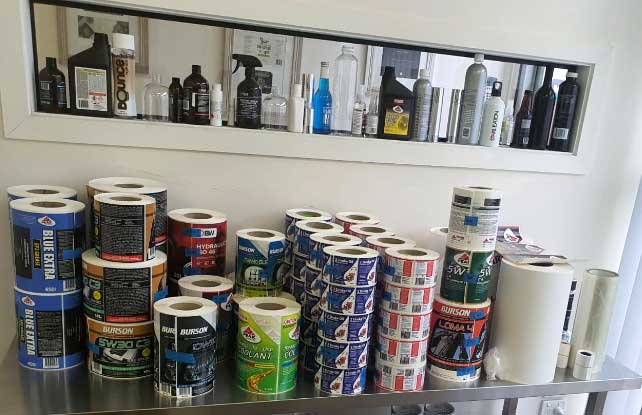 For some of the people creating different labels in favour of any application can be quite daunting and intricate to finish. Using a word processor for creating labels or any other printer for the printing process can make your tasks even extra difficult. But now the whole process of label printing has become so much easy and effortless by choosing the affordable and best quality of label printers.
Label printers are quite known for their extra smart nature and they are fully compatible with any laptop or the PC device. You can use it or start your printing process as you will attach it through any US cord. They do have the capacity in which they can smartly arrange all your basic information on labels and can easily print it out in maximum copies. They are available in both portable and desktop categories with the attachment of a built-in keyboard for the sake of entering data as well asan LCD screen for easy clear display work.
Label printing, cutting and finishing machine are generally categorized into three main types as mentioned below:
Thermal transfer (TT) label printers
Direct Thermal
Laser Printers
Now let's discuss each one of them in detail:
1. Thermal transfer (TT) label printers:
Such printers are normally used at an industrial level for excellent and quality and yet long-lasting labels. They make the use of ink ribbons which are made from resin, wax, or the blend of both. You can use it or start your printing process as you will attach it through any US cord. You must be matching the basic label material with an accurate ribbon for getting excellent quality of printing work and high durability. In this way, all of your labels will be available with the ribbon recommendations.
2. Direct Thermal Printers
Next, we have direct thermal (DT) printers! Their working process is quite similar to thermal transfer printers. But the only difference is that they do not need any ink ribbon. Hence the labels which are passing through such printer types make the use of a unique chemical layer which is below the label main surface. This layer is -activated for creating excellent printed images.
The cost per label is quite a lot lower when the printing ribbon is not used. But still, the labels are quite a lot expensive due to the certain chemical which is added in its construction. If there has been a UV light exposure, you cannot use the DT labels for the long term. Such labels are normally selected for the affordability or as ease for setting up the printer with just one set of media supply to monitor.
3. Laser Printers
The last on our list of label printer machine types we have laser and inkjet printers! Such laser and inkjet labels are much ideal when it comes to the utilization of your basic office printer or the standard sheet-fed home. This will make the whole process of label printing so much less expensive and easy to do.
Such labels are even sold in the form of sheets which is extra economical and turns out to be an excellent choice for the on-site as well as on-demand printing. Hence the durability of basic laser labels will vary right through the general indoor applications into wet or the cold temperature applications.
Laser sheets make the use of dry toner which is either black or can also be available in full color for adding an extra flexible nature in graphics as well as color-coding. Inkjet label makes the use of the cartridge system of some wet ink and they do have limited durability.